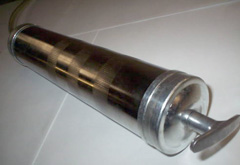 Land Rover Gearbox/Axle Oil Filler.
Here we have a brand new syringe pump for filling gearboxes and axles on all Land Rover® models.
This is an essential tool for doing any home maintenance. It does away with squeezy bottles etc. Just pull back the handle to fill with fluid, bend the flexi spout into the hole and push the handle in…Quick, Clean and Efficient.
To order please phone: 01202 668666
FREE SHIPPING…UK Mainland (Excluding Highlands, Islands of Scotland and Northern Ireland).All other locations…please email for a quote.